About Alpenhouse Apparitions
Welcome to Alpenhouse Apparitions, a new imprint of Sutton Hoo Press dedicated to printing the best supernatural and other genre fiction in hand-made letterpress editions. Our books are designed and printed by C. Mikal Oness, who makes books using the innovations that Gutenburg developed for his great Bible: moveable type and stiff ink for relief printing. For close to fifteen years, Sutton Hoo Press has been bringing its subscribers varied titles of contemporary poetry and fiction, and now, with the assistance of co-editor James Boyd White, the press has been soliciting stories from the most noteworthy writers in the genre of supernatural fiction in order to publish an annual Christmas ghost story.
Each of our hand-made editions is devoted to a single short story and showcases original artwork commissioned specifically for each title. We are dedicated to honoring and reviving the tradition of ghost stories being shared with close friends and family gathered round the hearth during the winter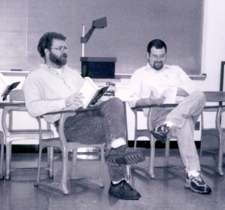 Co-editors C. Mikal Oness and James Boyd White

holidays. To this end, we draw our inspiration not only from the work of such luminaries as J. S. Le Fanu, M. R. James, and Vernon Lee, but also from the art of crafting books that are a pleasure to hold and read. We like to think of Alpenhouse Apparitions as a modern version of the Routledge's Christmas Annuals, which featured supernatural novellas by Mrs. J. H. Riddell.

Our first book, The Decorations by Ramsey Campbell, a year in the making, is now ready for distribution. This volume is printed from Joanna types with Perpetua titling, two fine faces designed by Eric Gill, on dampened Johannot and Somerset papers. The standard edition is bound in quarter cloth with French marbled paper and foil stamped on the spine; the deluxe edition will be bound in a contemporary half leather and marbled paper binding designed and executed by Julia Leonard of Iowa City, and housed in a clamshell box. Both editions are available directly from the press; please contact us for more information.